Having the joyride on two wheels: A reminder for the motorcycling public
Stay safe, someone is still waiting for you at home.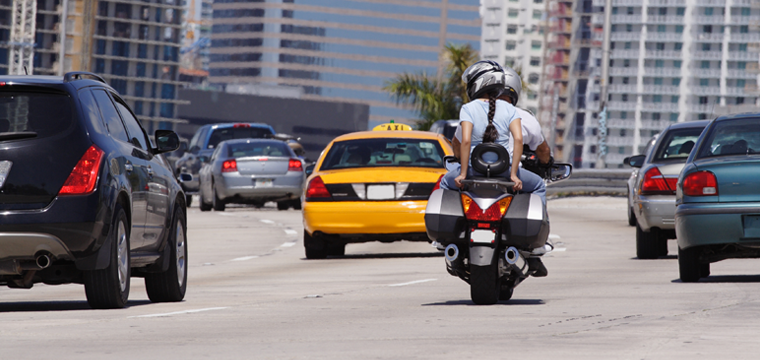 HAVE you ridden a motorcycle before? We know for a fact that riding a motorcycle is pleasurable and fun. It feels like having your wings and flying away. In my experience, it is the freedom that makes it thrilling for all riders. Motorcycles can maneuver on congested streets and heavy traffic. It can be used for sports and even travel/adventure or cruising on an out-of-town ride.
The motorcyclists are common sight in the urban or rural areas around the Philippines. Even in other Asian countries like India, Vietnam, China, Cambodia and Thailand the number of motorcycles outnumber cars and trucks.
Motorcycles have become the mode of transport of the masses. This is second only to the passenger jeepney, which remains the "King of the Philippine Road" here in our country.
In terms of frugality, motorcycles are very economical, with fuel prices skyrocketing weekly in which fuel expenses can be used for a week at most. Motorcycle loans are available in the market through commercial and other financial institutions. Repairing and upgrading costs are lower compared to a car or a sports-utility vehicle.
Recently, I have seen how a young man fell off his motorbike and was injured. He was given immediate medical attention by first responders at the scene of the accident. As I recall the incident, the sight of that grim event kept flashing back in my memory from this day on. Let me show you some facts on the danger motorcyclists face:
A recent Department of Health report shows that riding motorcycles is the most dangerous mode of travel in the country, as stated in its National Electronic Injury Surveillance System September 2011 report on the first quarter of the year.
According to a news report, 62 percent of motorcycle-license applicants at the Land Transportation Office have no formal motorcycle training based on the survey.
In Metro Manila alone, motorcycle-related accidents have drastically increased from 9.4 percent (11,475) in 2005 to 14.6 percent (20,518) in 2011. However, there were no exact statistical reports on fatalities.
Major roads in Metro Manila where motorcycle accidents mostly happen are on Commonwealth Avenue, Alabang-Zapote Road, JP Rizal Street, Epifanio de los Santos Avenue and Quirino Highway.
Reasons include overspeeding, inattentiveness, overtaking, driving too close to another vehicle, not obeying road/traffic signs or lights, driving under the influence, mechanical error/failure, bad roads, poor weather conditions and no proper traffic warning signs.
90 percent of motorcycle riders outside of Metro Manila don't follow the helmet law (Republic Act 10054), while 90 percent of motorcycle riders in Metro Manila follow it.
Some motorcyclists involved in vehicular accidents do not have health or accident insurance coverage at all.
How not to be part of statistics
THESE are some things you should know about as a rider:
1. Have your safety precautions on—make yourself visible at all times by turning on your headlight even during daylight. Wear high visibility colored vests or jackets with reflectors. Wear full safety gears like helmet and body armor.
2. Obey traffic rules and follow road safety —this is the most essential thing that a motorcyclist should do in promoting safe travel. Avoid potholes or bad roads when traveling to your destination.
3. Have a Personal Accident Protection Plan —all motorcycle owners/riders should have a Protection Plan. This covers for Accidental Death and Permanent Disablement, Accident Medical Reimbursement, Murder and Assault, Accident Burial Benefit and Motorcycle Third Party Liability. The cost of this type of insurance is only at P900 to P1,100 annually.
Stay safe, someone is still waiting for you at home.
Benedict Baluyot is a Registered Financial Planner of RFP Philippines. He is professional real estate broker with specialization in project selling and general brokerage of different estate properties from different local and national developers in Pamapanga and Metro Manila residential and condominium projects.
Source: http://businessmirror.com.ph/index.php/en/business/banking-finance/36544-having-the-joyride-on-two-wheels-a-reminder-for-the-motorcycling-public

Comments
comments
2,867 total views, 2 views today
Comments
comments