New Year's Resolution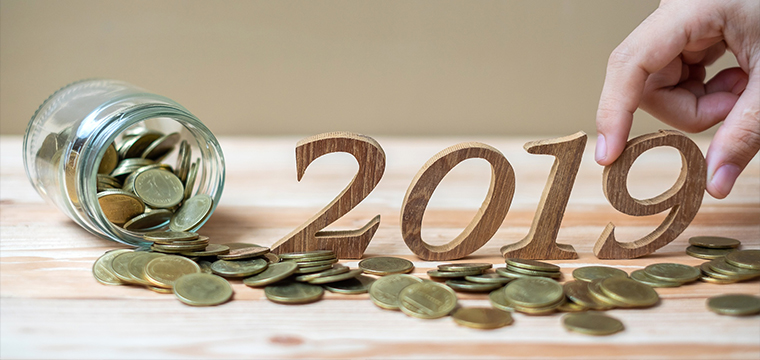 It is New Year once again. One year has passed, and another comes in.
New Years always present us the time to go back to the lessons learned and try to look forward to redesign our lives. Thus, New Years are popular for resolutions—a list of things that one hopes to change for the coming year, with the objective of becoming a better person.
Resolutions are numerous and can touch on the physical, behavioral, spiritual or life in general. But more oftentimes, it misses out on things that pertain to one's personal finances. For the New Year, here are the top 10 resolutions to decisively change one's life. The resolutions have been split into two categories: Things to start doing and things to stop doing in 2019.
Things to start doing
Start Planning – People plan painstakingly for vacations, gimicks and family outings but actual plans—roadmaps, designs, or blueprint—to ensure one's financial security are often left to chance. Houses are built by design; roadmaps are planned from one destination to another; and vacations have their itineraries and budget. The same is true for one's financial life. How to do it? Professional financial planners can help create, design and implement a financial plan that covers all the critical areas of personal finance: investments, cash flow management, debt management, retirement, tax and estate, and children's education. Having a sound and airtight financial plan gives more confidence and peace of mind, knowing that contingencies, future responsibilities and needs are prepared for and secured early.
Start budgeting and monitoring – Upon closer look, expenses can generally be classified and anticipated. A simple spreadsheet can do the trick. Expense can be classified as non-discretionary (for needs such as water, electricity, phone bills, groceries, etc.) and discretionary (or wants such as eating out, fancy clothing, gadgets). Having a file that lists all expenses will enable one to monitor not just the movement of figures over the months, but patterns as well, enabling the user to review and cut down some expenses.But monitoring can only go as far if budgeting—setting limits—are not in place. Setting up a budget for each expense item is a control mechanism that gives discipline. With budgeting, excess cash can be reallocated to more important items such as emergency fund, children's future tuition fee, insurance or retirement fund.
Start reviewing – This is perhaps the least done process in a financial plan. Reviewing is like the captain of a ship periodically checking if he is still on the same route, if the ship is still intact, or if the weather is still calm. The same is true for financial plans and goals. Things do not go out perfectly as planned: market changes, life situation changes, and goals change as well. Questions like–Am I on track with my goals? Are there changes in the market or my life situation that can affect my objectives? Should I adjust my goals—lower or higher? Is my portfolio on track with its expected returns?—are just some to consider in reviewing one's financial plan. An annual review is recommended to stay relevant and responsive to one's financial life needs.
Start investing in yourself – One of the greatest investments one can make is to invest in oneself. Investing in oneself means expanding your knowledge in personal finance, knowing the different products in the market, financial techniques and tools and how these are able to help you achieve life goals. A person who only knows ordinary bank products cannot take advantage of the opportunity to ride the market and beat inflation to fund future needs such as retirement or children's education.It is very easy nowadays to educate oneself: the internet is teeming with resources, videos, and websites on the topic. Seminars, talks and books on personal finance by experts abound these days that there is practically no reason not to know, be aware, and take charge and change one's financial situation.On the next part of my article, I shall be taking on the things that should be stopped doing in 2019.

Rienzie Biolena is a Registered Financial Planner of RFP Philippines. He is a Senior Financial Advisor at asset management company, and Columnist of Business Mirror and Manila Times.
Source: https://www.manilatimes.net/new-years-resolution/
954 total views, 1 views today
Comments
comments